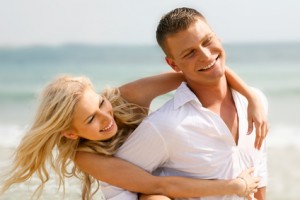 How do you really know if he or she is The One? Is it just a strong feeling or is any of it based in logic? Have you heard those stories of people recognizing "soulmate" and wondering how on earth they can know for sure?
Surprisingly, lasting love does go beyond emotions and has some grounding features. Here are 3 important questions to ask yourself:
Does your partner have long-term potential? Do you see yourself with him or her forever?
Are your strongest needs in alignment? These needs are your driving force in life. If these are completely different for two people, there will likely be conflicts.
Are your core values the same?
Bonus question: Does it feel good when you're together? I ask this, because two people can have core values, shared qualities, etc., and yet being together is like a thunderstorm.
If you don't know the answer to all these questions right now, don't worry. The important part is to dig deeper and find out what matters most to you. Soulmates recognize each other because they know themselves and what they want.
Once you know you deepest needs and values, it's easier to recognize an ideal partner or "soulmate." You're going beyond the obvious (i.e., shared hobbies) into the kind of person who compliments your life journey. Instead of looking for a person who has a certain background, appearance, or career, you're searching for the qualities (i.e., supportive, humorous, family-oriented, adventurous). These qualities cannot be found on a resume, but they can cause two people to recognize they compliment each other in the ways that matter most.
This is why is it possible that a Harley-driving meat eater can fall in love with a yoga-teaching vegetarian and they can live happily ever after. So, open your mind and heart to the qualities you want in a partner and you'll find that lasting love.