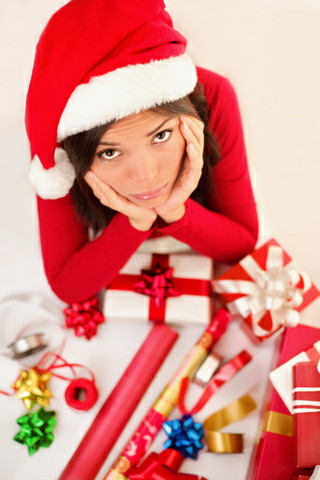 If you experience grief during the holidays, know that this is very common. Most of us place unrealistically high expectations on the season. This lofty view of how "things are supposed to be," combined with past memories, lack of funds, or personal struggles can make it difficult to get into the holiday spirit.
One of the most important things you can during the season is change your perspective. This means seeing the holiday from a different viewpoint, one in which everything is just as it should be. This can be hard to do, especially if you've had a recent loss, but the acceptance of grief has a strong healing component.
Here are a few more ways to help you cope this season:
Honor loved ones who have passed. If you haven't grieved the loss of a loved one, allow yourself the time to honor the person and remember him or her. Talk to a therapist or counselor if you need help coping. Also know that getting past difficult emotions of loss will open the door for a rebirth in your own life.
Practice acceptance. Many people feel alone during the holidays, so some loneliness is normal. Seek out company if you need it. If you need alone time, give this gift to yourself as well. Accept what is and appreciate it.
Reach out and give. Don't be afraid to reach out to others. Saying a few words of kindness or giving an unexpected gift can be very rewarding. Giving isn't just about material gifts, but about the energy behind it.
Practice feeling compassion for others. This includes people you see on a regular basis and even strangers. Remind yourself that you have more in common with other people than differences. This can help stir up more compassion for yourself
Focus on what you do have. Think of what you have right now instead of what you don't have-whether it's health, your job, friends, loved ones, pets, good memories, your house, food to eat-anything will do! Gratitude is a powerful force that promotes healing.
Ask for support. A weekly support group or therapy sessions can be extremely beneficial. Don't think that just because it's the holidays, you should wait-ask for help now. Check out this article on Grief and Loss for more hints.
Forgive. Let go of resentment. It's a great time of year to practice forgiveness and move on. This includes forgiving others AND yourself.
Christmas Sale – Expires Soon!
I would like to help lessen the burden on all of you financially by offering ALL of my products at a reduced price of only $9.99! That means you can save up to 90% on products that are filled with tips and strategies that can change your life!
I invite you to check out the holiday sale right away. This is a limited time offer and will likely not be repeated. This is my holiday gift to you! May you have a wonderful and peace filled holiday season, no matter what you are celebrating!
To purchase a book for just $9.99 and browse other items, go to the holiday sale here. Get your order in right away!