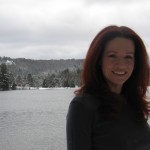 Well, I have just come back from the Great White North and had a wonderful few days to just disconnect from the hustle and bustle, and re-connect with my Energy Source.
We all need time away from people, technology and demands that are put on us or that we self impose. It does not benefit any one of us to stay so connected with others that we lose the connection to our inner source. We tend to get caught up in our lives that we end up telling ourselves that we cannot possibly take any time off to just BE.
Contrary to popular belief, we can disconnect from the hustle and bustle, and our worlds will not stop, disaster will not strike us down, our businesses will not fail. It is quite the opposite. If you take time each day, or take a few days to just be at peace, your world will expand, your mind and body will flourish, and your business will be just fine.
Having my own business, and knowing it would not run without me there, was not a deterent to going away and completely disconnecting with it and my clients. We only live in the present moment and needing to make contingency plans for every conceivable disaster is not the way to relax. The Universe has a way of taking care of the details. You can let others know that you will be away and unavailable via technology, and that will be okay.
The other side of the coin is burnout. If you choose to stay connected to your business, technology, people 24/7 your mental and physical health will surely suffer. You become prone to stress related illnesses more easily and the quality of your life will be lowered.
So take some time each day, no phones, no interruptions, no people making demands, no technology, and clear your head of the incessant thoughts that rattle around in your mind. Better still, be brave and get away from it all for a few days, and enjoy the peace that is an integral part of your life and well being. You will come back in a better position to tackle the demands of everyday life.
Be kind to yourself and keep your face to the sunshine!