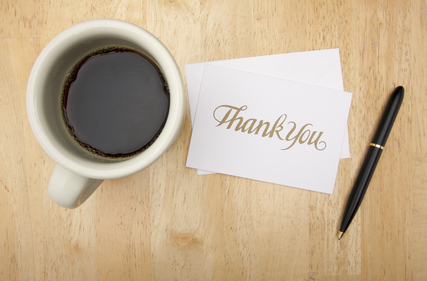 The next time you've got a few minutes, consider having a moment of gratitude. Whatever you're doing and whatever moment you're in, chose to simply appreciate it. Appreciate it as if it's precious and important, even if you're waiting in line or driving your car. There doesn't need to be fireworks or a life-changing event to feel gratitude and amazed at the wonders of life.
In fact, being grateful can turn the ordinary into extraordinary. This is because you're paying attention to the moment and the small things that make up the fabric of the world.
Here are some more ways to express gratitude:
Say thank you. Life is a richer experience when you look people in the eye and give thanks. Try to notice opportunities for these kind of exchanges with people. Send thank you cards and appreciation emails. If you haven't expressed your gratitude to someone in awhile there is a great joy in being the giver; it's usually even more pleasing than being the receiver.
Count your blessings. Each day we are so lucky to be alive. Yet, it's easy to get stuck in a routine and take our blessings for granted. Try making a list of everything that is good in your life. Remember to focus on the positive and those things that make you feel delighted and at ease. This stirs up the energy for more good to grow.
Pass it on. Gratitude is not something to keep to yourself. So, if you've gotten a lucky break, by all means share your excitement. If there is something you are passionate about that would make a difference to the world, jump in. A good rule of thumb is that if it evokes a positive good-feeling emotion, it's probably a step in the right direction. The more you feel grateful and appreciative in what you do, the more this energy will be transmitted to other people and the world as a whole.
Remember, the more gratitude you feel, the more good you are allowing into your life—and into the lives of others. So, practice expressing it easily and often.