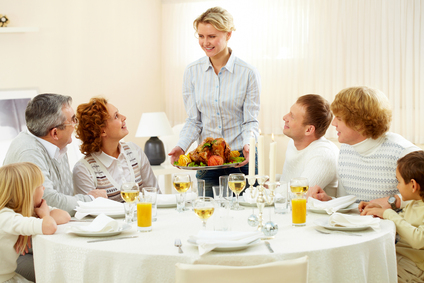 With the holidays upon us, it's time to revisit holiday stress and how to avoid the consequences of a typically hectic season. The 3 Tips to Avoid Holiday Stress this year are: Plan…Plan…Plan.
Many of us experience stress over the holidays because of the unexpected; guests we were not prepared to receive, sudden invitations to parties from friends and associates or meals for those unexpected guests, and trying to make others happy rather than ourselves. With forethought and planning however, many of these stressful situations can be avoided.
Here are a few ways to plan ahead for less stressful holidays this year:
Plan ahead for visitors…and expect the unexpected. If unexpected guests have descended upon you in the past, why not plan ahead for it to happen again. If they don't show this year, you're certainly no worse off, if they do, however, you'll be ready and able to handle them. Won't that be better than stressing over the sudden appearance of someone you didn't expect?
Plan ahead for meals and parties…and be ready to entertain – or be entertained. Once again, anything you've experienced during past holidays should not be a surprise to you this year. Stressing out about what to bring to an unexpected pot-luck at work won't be a problem if you have a nice casserole waiting in the freezer. Plus, a surprise visit from a seldom seen family member need not be particularly stressful if you temper your own expectations for the visit. Do what you are comfortable doing to make the visit a nice one – and leave it at that.
Plan ahead for the things that make the holidays fun – for you. Expectations, whether from others or from ourselves, are one of the most negative influences we generate during the holidays. Unrealistic expectations of ourselves, in which we provide everything that others need for an enjoyable holiday season, can really make the holidays a negative experience. Instead, try making this holiday season an enjoyable experience for yourself, and let the others tag along. If you enjoy the season, the chances are high that everyone around you will as well.
Just because the end-of-year holiday season has always been stressful for you in the past does not mean that it must be again this year. Planning ahead, having meals and parties catered, asking others to lend a hand, can all go a long way toward making the holidays this year as enjoyable for you as you have always made them for everyone else.
Do not take on the burden of entertaining others beyond what you are capable of providing. Make taking care of you a priority this season, and your family and friends will appreciate your happy outlook on the holidays much more than they would have had you been in your formerly stressed-out mode.
Do you need a little bit of help getting through the holidays this year? If so, get in touch with us today.