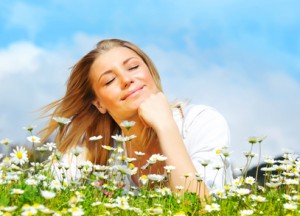 We are in the season of growth and renewal, the season in which everything is new and beautiful, and where anything is possible. The Universal Life Force is bursting at the seams with a life renewing energy and what we, as individuals, should be doing is cleaning out the negative energy we hold towards others, so that we can also clear away any negative Karma we've created.
Spring is a powerfully transitional time in the Universe. What better time could there be for a spiritual "Spring Cleaning," a cleansing of the Soul?
When we allow negative energy into our lives we create a backlash of negative Karma. When you think negative thoughts; when you display negative actions toward others; when you feel negative energy directed at others, you will inevitably promote the growth of destructive, negative Karma in your life. It is a very unhealthy way to live. As the age-old saying teaches, "What goes around comes around."
Instead, at this time of Universal Renewal, it is best to meditate on loving energy for ourselves and others, especially those who would do us harm. It's like a 'spring cleaning' for our souls.
How can you cultivate kindness this spring?
Be grateful
Be kind
Be loving
Be forgiving
Be understanding
The Golden Rule is a Universal tenet that promotes positive Karma for everyone. Treat others as you wish to be treated, with kindness, understanding, and love, and be grateful for the life you've been given – always. Forgive others their mistakes, as you would like to be forgiven for yours. Let the positive energy of the Universe guide you, rather than anger, envy, jealousy, or self-doubt, and discover the beauty of positive energy in your life.
This will lead you to a feeling of internal renewal, a renewal within you to match the renewal you see in the world around you. You will allow the Universal Life Force to manifest internally, as surely as it does in Nature. What could be more beautiful than to have the internal You, your own sense of who You are, match the beauty and renewal of external world?